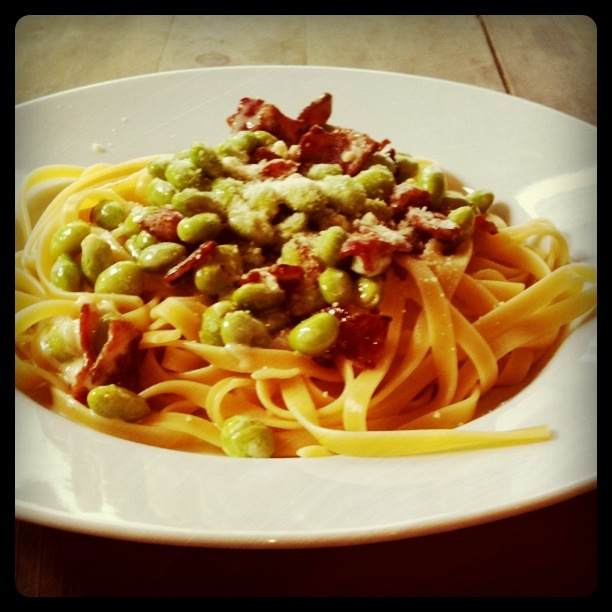 I'm in love, seriously in love with this pasta. I mean, hello? Pasta AND bacon! I've made this dish twice now and it's definitely a winner in our house. M even likes it!
I found the recipe at
Cooking with Chopin, Living with Elmo
. She has step-by-step instructions, but seriously it's so easy to make you don't really even need them.
Pasta with Edamame and Bacon
Serves 3-4
1/2 pound pasta (fettucchine, thin spaghetti, linguine, or even cheese tortellini), cooked according to package instructions
4 slices bacon, cut into 1/2-inch pieces
1 cup frozen edamame (soybeans), cooked (or substitute frozen peas)
1 cup heavy cream
1/4 teaspoon salt
In a large skillet, saute bacon for 7-8 minutes over medium-high heat. Using a slotted spoon, tranfer cooked bacon to a plate lined with a paper towel. Reserve 1 tablespoon of the bacon grease and discard the rest. Whisk cream into the reserved bacon grease and whisk over medium-high heat for another 7-8 minutes until the cream has thickened and "reduced".
Add the cooked bacon back to the pan; also toss in the cooked edamame (or peas, if using). Stir together to mix well.
Stir cooked pasta into the sauce.
Top with Parmesan cheese.